How To Start The Conversation About Hospice Care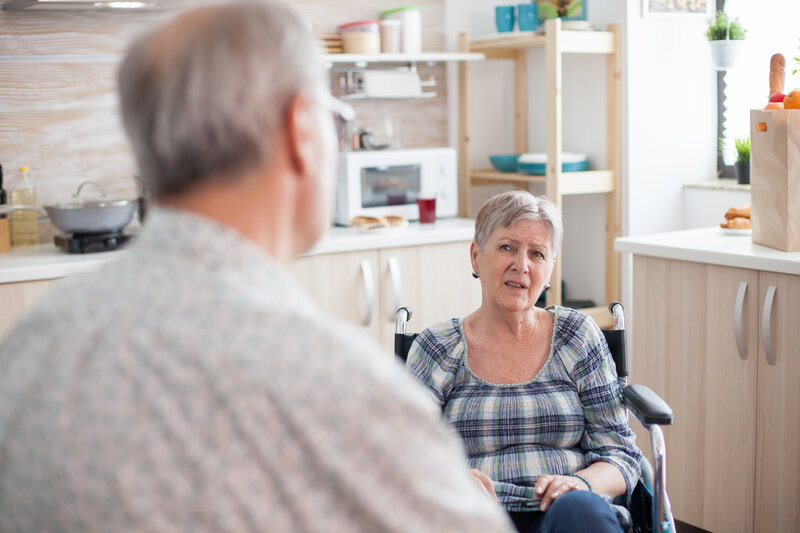 Hospice care improves the quality of life for patients, families, and caregivers. However, individuals often wait too long to have the conversation, reducing their chances of having full access to hospice's full-spectrum support services. Studies show that the sooner qualifying patients receive hospice care, the longer they live, and the richer their lives become. 
It's Never Too Early To Talk About Hospice Care
Conversations around hospice care would ideally take place long before anyone has a terminal diagnosis or prognosis. They should be part of any individual's end-of-life care plans, so they can be implemented when the time is right.
Of course, that's not how it typically takes place. Unfortunately, most patients and their families resist talking about hospice until the patient's death is more imminent. As the
Hospice Foundation of America
puts it, "A person does not have to be bedridden or in their final days of life to receive hospice care. It is most beneficial when the patient and family can receive care early to take advantage of the many benefits hospice care offers. It can be used for months, as long as medical eligibility is met."
The Best Time To Have A Conversation About Hospice Care
Here are some of the best times to start the conversation around hospice care.
While making your end-of-life or estate plans
If you are in the process of making end-of-life or estate plans, you are at the perfect point to talk about, if and when, you'd want to enlist the support of hospice care. We recently posted an article reviewing
important questions to ask as you review your end-of-life plans
. We recommend discussing plans with your partners, a close friend, your children or heirs, and anyone else who has a vested interest in your wellbeing.
The more you and others are made aware of your wishes, the easier it is to follow through when the time comes, and that includes initiating contacts with local hospice or palliative care agencies.
When you receive a terminal diagnosis or prognosis
Have you or a loved one received a terminal diagnosis or prognosis? Depending on your age and general wellbeing, odds are your first course of action is to pursue curative treatments. This is also a good time to learn more about
hospice care versus palliative care
and to discuss what you learn with your doctor. Physicians are gifted at healing the physical body and are well-versed in the most recent treatment options and cures, but they aren't always as good at honestly letting patients assess the quality of life in their pursuit of "more time." 
The more your doctor can be honest with you about the true risks/benefits/expectations associated with potential treatment options, the more truthful they can be when/if they feel it's time to accept the inevitable – planning for comfort care and quality of your remaining life.
You recognize the signs it's time for hospice
If a patient is resistant to pursuing hospice, there typically comes a point where it's impossible for a spouse, caregiver, or family members to ignore
the signs it's time for hospice
.
These include things like:
A prognosis of 12 months or less (and more crucially if the prognosis is 6 months or less)

You're consumed by fears of a painful or uncomfortable death

You're considering palliative care

You feel perpetually uncomfortable, weary, or overwhelmed

You or family members are suffering from anticipatory grief (the grief of the life you're losing or will be lost)

You can no longer complete daily functions without support

You know you want to die at home or somewhere other than a hospital

The decision to cease curative care and pursue the most comfortable and peaceful death possible
The sooner you contact local hospice agencies, the sooner you and your loved ones have access to a wide range of support.
A conversation about hospice care is needed when you want to know about services and support available 
Hospice care agencies are always happy to share what they do with prospective clients and community members. Unfortunately, we've developed a stigma that "hospice = death," and it's just not true. Yes, hospice care is specifically designed to serve individuals with a prognosis of six months or less. However, we do that by making their lives as rich, full, independent, and stress-free as possible. 
Some of the most common
services available through hospice
agencies include:
24/7 support from qualified hospice nurses and personnel to answer questions and address immediate concerns

Peace of mind because of hospice's support of pain management, symptom management, and life-enriching resources

Home visits from hospice physicians, nurses, and aides

Delivery of durable medical equipment to make life easier (adjustable beds, bedside commodes, oxygen, shower chairs, etc.)

Prescription refill/delivery 

Support with bathing, dressing, linen changes, and other hygiene tasks

Access to support from hospice social workers, spiritual advisors, and therapists

Grief support

Help from hospice volunteers (including respite care for primary caregivers, meal/grocery shopping, companionship, dog walking, musicians, pet therapy, and more)
What type of support do you want or need? Now's the time to begin that conversation with local hospice agencies so you can
decide who is the best fit
.
Tips For Talking To A Loved One About Hospice
Are you having a hard time broaching the subject? We understand. Some of our most tried and true tips include:
Being patient and compassionate.

It will probably take more than a single conversation, especially if your loved one is reluctant to discuss death or the need for extra support. Your patience and compassion are invaluable when it comes to helping them meet you halfway, rather than retreating out of fear.

Let them know you need help and support.

If they can't do it for themselves, see if they'll do it for you. Hospice isn't just for the patient –

it's for the patient's family/caregiver network as well.

Tell them you need the support services offered by hospice, even if your loved one never participates. That's a great way to get hospice in the door and typically patients follow suit, even if they don't, you'll have access to essential emotional and practical care support.

Dispel common myths about hospice.

Again, most people associate hospice with death rather than the life-supportive services we offer. Do your best to

dispel common myths about hospice

to help your loved one see the potential benefits.

Explore options together.

Or, in some cases, ask if there's someone else they'd rather explore their options with. Sometimes, patients feel more comfortable looking into options alone or with a trusted friend or neutral colleague rather than with a spouse or close family members.

Respect their feelings/decisions.

Unless you feel dementia or Alzheimer's are at play, always respect their feelings and decisions. Everyone deserves to make their own medical and end-of-life choices and your ability to respect their feelings in the present, even if you disagree, may open the space required for them to explore hospice options again in the near future.
Start The Conversation With Hospice Of The Golden Isles
Would you like to learn more about local hospice options? The amazing team at
Hospice of the Golden Isles
is always inspired and loves to start a conversation with anyone interested in what we do. We offer hospice and palliative care services just about anywhere you may find yourself, including your home, hospital, nursing home, or as a resident of
our designated Hospice House
in Brunswick
. Please
contact us
to learn more. 912-265-4735.