What Is End Of Life Care?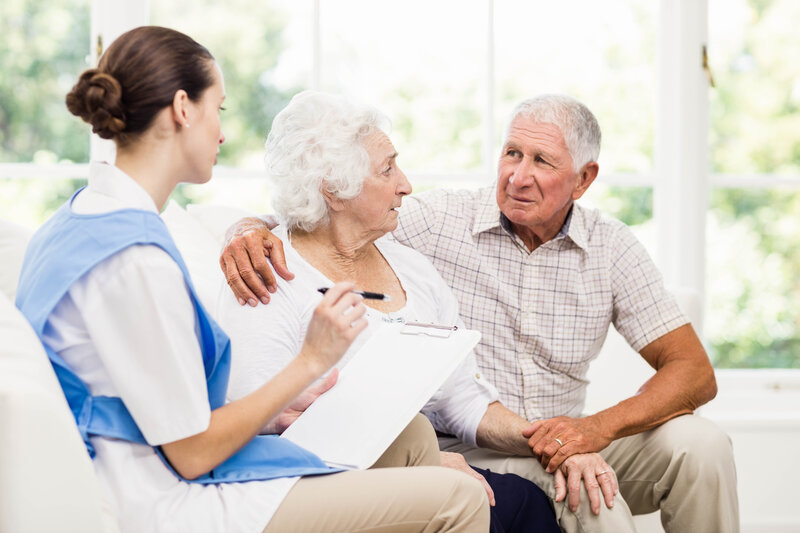 End of life care is an umbrella term covering all of the ways we hope to be cared for and supported when we're nearing and at the end of our lives. For those who are diligent about long-term-care planning, end of life care begins with completing advanced medical directives, ensuring your wishes are honored in various, unpredictable medical situations. It continues on to consider the types of treatment or support you'd prefer as age- or health-related declines make it impossible to care for themselves.
In a culture that focuses more on medical treatments than quality end of life care, this term is quickly distilled to the question of palliative care or hospice? If you're in an immediate healthcare crisis, that's where you should start. Otherwise, feel free to scroll down to the section "
It's Never Too Early to Begin Thinking About End of Life Care."
Do You Need Immediate End Of Life Care & Support?
If you recently received a terminal prognosis or a diagnosis for progressive disease/syndrome, there is no time to waste. While your chosen treatment path may yield decades or years of quality life ahead, end of life plans provides peace of mind and "A Plan," that can be enacted much more quickly than if you procrastinate and wait for a medical emergency or trauma to force the hand.
We recommend meeting with hospice or palliative care services early on to interview them and learn more about what they offer. Yes, that's right – we said "interview." These organizations exist to serve their clients and it's imperative that you feel safe, seen, and comfortable with whichever agency you choose.
Read our post,
Tips for Choosing a Hospice Care Provider
to learn more about what to look for and which questions to ask as you "interview" prospective agencies.
It's About More Than Just The Physical 
While the first step is to learn and understand all you can about your diagnosis and potential treatments, you also need extra support to make both short and long-term care decisions – including end of life options.
Even the most well-meaning of healthcare providers don't have the time (or the training) to support you in all of the ways that are meaningful as you face a prognosis or terminal diagnosis. That's where palliative and hospice care providers provide tremendous support.
While your physical comfort is certainly a priority, we are here to address every aspect of your life, including your mental, emotional, and spiritual wellbeing. We can also help you learn more about the practical, after-death options if you haven't already done so. Additionally,
we're here to support your family
, so it becomes a team effort all the way around.
We do this by offering:
Home or

hospice house-based

support via doctors and nurses

Personal care and hygiene support

Medical equipment as needed for comfort and accessibility (bed with adjustable settings, oxygen, wheelchair/walkers, bedside tables, commodes for the bathroom and bedside, etc.

Prescription refills/delivery

Chaplain or spiritual direction

Social workers and therapists

A team of volunteers to provide personalized support
As we mention in our post
What is Hospice Care?
:
Many people mistakenly believe that signing up for hospice care means surrendering to death. We often hear, "We just aren't ready for hospice because we believe there is hope." There is no need to give up hope while on hospice service. In fact, if you are on the fence about continuing with treatment and going on hospice, you can go on hospice and benefit from a hospice care team. If you decide to pursue further treatment, you can go back off service to honor your wishes. Ultimately – it's all about the patient!
It's never too soon to begin researching end of life options because the longer you have to make plans, the better and more personalized those plans can be.
It's Never Too Early To Begin Thinking About End Of Life Care
If you happen to find this blog because you're early to the end of life planning process (meaning you're relatively healthy and facing no current prognosis), we congratulate you. The more forethought our clients put into their end of life plans before setting them into action, the more personalized and comprehensive their plans are. 
At the pre-prognosis or early diagnosis stage of the process, you have the time to craft careful plans that include your personal life values and desires and can also encompass those of your family – if that's what you wish. This process requires:
Creating an advanced directive and sharing it with healthcare providers, spouse/partner, close family members, and your POA and Trustee.

Click Here

for a free medical directive form for Georgia. We also recommend the simple and affordable ($5) form available from

Five Wishes

.

Getting your estate plans in order, even if that's just a basic written will or a legal trust (there are plenty of free documents online to get you started). 

Knowing the difference

between palliative care and hospice care

so you know who to call and when if/when a medical event or emergency brings you in closer proximity to your death.

Make your wishes known by at least two or three individuals, from different areas of your life (family, friend, trusted colleague, or a long-time neighbor) to protect the integrity of your wishes.

Ensuring family members, minors, pets, and heirlooms/prized possessions are taken care of when you're gone.
If, however, you never got around to creating end of life plans, OR you find yourself facing an acute situation sooner than you thought, we recommend
contacting a hospice care provider ASAP
. That way you can make the very most of the time you have left, and have access to all the support you and your loved ones deserve during this precious time.
Would you like to learn more about end of life care options for yourself, a spouse, or a loved one?
Contact Hospice of the Golden Isles
. There is absolutely no obligation whatsoever. Our mission is to ensure everyone has the highest quality of life and as much peace of mind about end of life care and options. We're happy to answer all of your questions.