The Difference Between Clinical And Peer Grief Support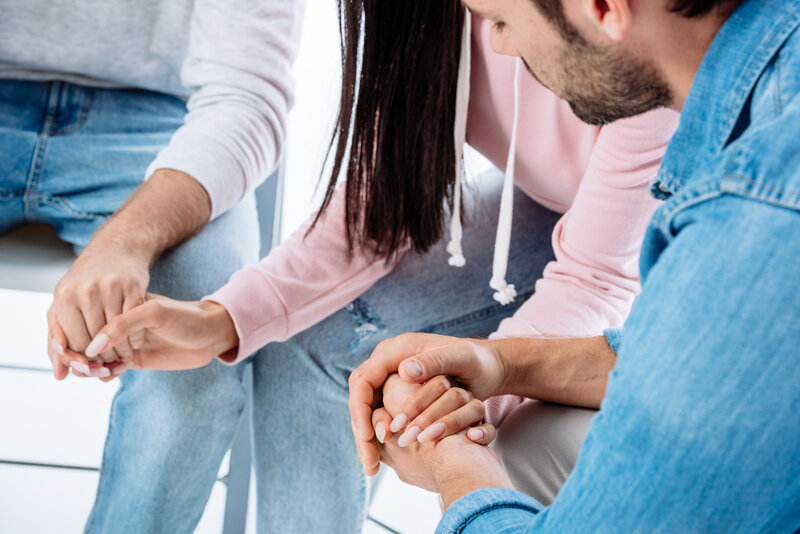 Joining a grief support group or seeking individual grief support is a powerful way to learn more about grief, how it affects you in your daily life, and process your grief to move forward in a more balanced way. 
When you begin searching for grief support, you'll have two available options. The first is to enlist the help of a clinical grief therapist. The other is to join a peer grief support group or one-on-one peer grief support help. This post clarifies the difference between the two, so you can determine which one feels like the best fit for you at this moment.
Clinical Or Peer-Based: Which Grief Support Is Best?
Most grief professionals understand that grief doesn't heal as much as we learn to live with and carry with us through our lives. Either way, we highly recommend finding an individual or group to help you move through the grieving process. Although going it solo may sound more appealing at the moment, it is probably a sign you need grief support!
Read 
5 Signs You May Need Grief Support 
and see if you recognize them in yourself.
Free hospice grief support
Did you know many hospice agencies offer free grief support as part of their comprehensive services? Therapy can be costly, so this can be a lifesaver for many of our hospice clients and their families. 
Best of all, you don't have to be part of our hospice family to get the grief support you need.
Our grief counselors and peer-support groups are available to the community at large. All you have to do is contact us and work with one of our grief support coordinators. After asking a few questions, we'll put you in touch with 
our bereavement coordinator
. In some cases, you may be placed first with one of our licensed clinical grief therapists to begin. In others, we'll refer you to one of our trained peer-support groups (more on that below). 
Visit our 
Grief & Healing page
 to learn more about the services we offer and to access a comprehensive list of resources for adults, teens, and children – many of which are divided by the length of time it's been since your grief began or revealed itself to you.
Clinical grief support
Any licensed therapist, counselor, or psychologist can provide clinical grief support. In many cases, we'd argue these professionals are working with clients to process grief in all kinds of ways, especially those who work in the marriage and family therapy realms. That said, some therapists specialize in the grief niche.
Clinical support is best for:
Grieving individuals who have underlying emotional or mental issues such as depression or bio polar disorder. 

 

Clients experiencing complicated (more acute) grief and are struggling to make it through the daily routine.

 

Anyone who is wary to sit down and be vulnerable with a peer (aka "stranger").

 
Often, clients who start with clinical grief support get what they need from that connection and then join a grief group to provide a more extensive social network of sympathetic individuals as well as a continued format for processing and expressing their grief.
If you go the clinical grief support route, we highly recommend looking for a therapist who specializes in grief because they're more likely to be attending conferences, workshops, and furthering their education around grief. Grief is not an emotion. Instead, it is an experience that holds a large spectrum of emotions, and it should be nobly treated as such.
There are so many different types of grief, and our society is not very good at honoring any of them. You can read more about the full spectrum of grief by visiting our post, 
Types of Grief: It's Not Always Related to Death.
You can look for clinical grief support online or ask for referrals from family or friends. We highly recommend setting up short sessions (often offered for free or minimal cost) to find someone that feels like a good fit. You may also ask a therapist for recent referrals who are willing to email or chat with you.
Note
: This can be a pricier option unless the clinician is available through a non-profit or a hospice agency. The average cost of professional therapy in the Brunswick, GA area is $85 – 100 per session. If that is beyond your budget, ask if a prospective therapist offers a sliding fee scale (many do) or if they can refer you to a lower-cost non-profit center. 
Peer-based grief support (one-on-one or group)
Most people find that high-quality peer-based grief support is just what they need. In this case, look for a grief support group that a clinician or a well-trained peer facilitates. For example, the grief support facilitators here at Hospice of the Golden Isles are
 all hospice volunteers
 who complete a 12-week, in-depth training.
Again, we'd like to advertise and advocate for our own grief support program that is free for anyone in the Brunswick, GA community. 
Click Here f
or our schedule. All of our grief support groups and individual sessions are currently being offered on a HIPPA protected Zoom platform, but we look forward to resuming in-person sessions soon.
You can also visit online search portals, such as 
Griefshare.org
, to find an in-person support group in your area. These groups are typically free, or they ask for a nominal donation (voluntarily given) to support their cause.
Clients and community members who've utilized our peer-grief support groups have nothing but good things to say about them. These groups are often described as "transformative" when it comes to honoring your deepest self and the one you grieve while slowly learning to navigate a new world as you know it.
Are you interested in learning more about our free grief support options or speaking with our bereavement coordinator?
Contact Hospice of the Golden Isles online
, email us at 
bereavement@hospice.me
 or call us directly at (912) 267-5462. It is our honor to tenderly hold you as you emerge from such a painful and tender time.