Event Honors Volunteer of 25 Years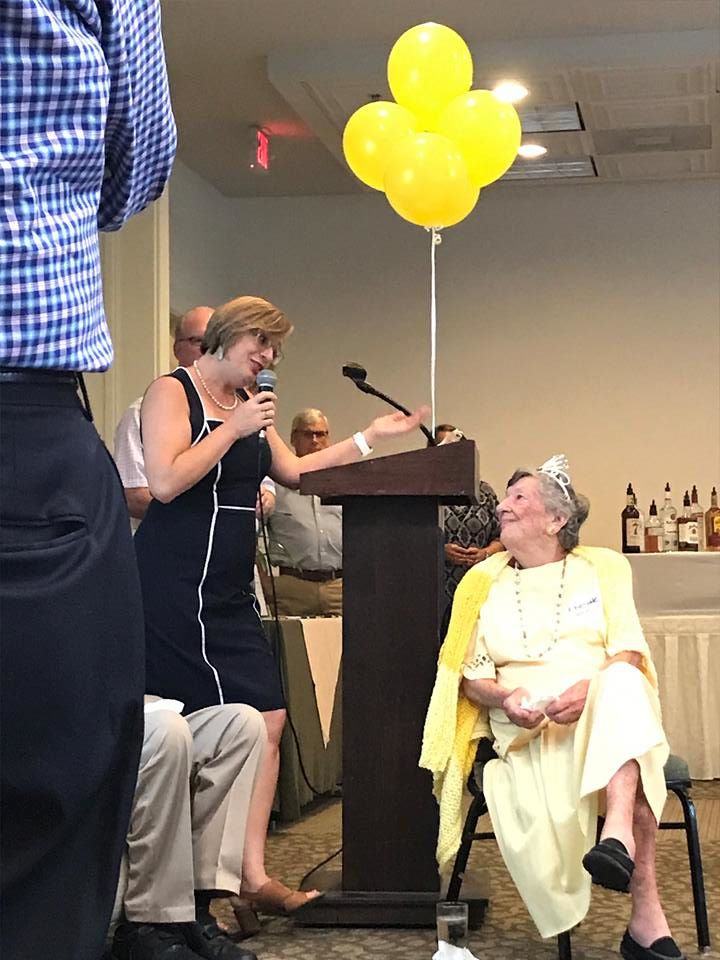 Oh, what a night! On Thursday, Aug. 3rd, friends of Charlotte Raymond turned out in droves for "Cocktails with Charlotte" – a special event held in her honor and benefiting the hospice she has volunteered at for over three decades. Charlotte was blown away by the reception and fellowship. Thank you to everyone who helped to make this such a memorable evening in honor of an unforgettable lady and cherished volunteer!
About Charlotte
After retiring from a career with the National Science Foundation in Washington, D.C. over 35 years ago, Charlotte moved to Saint Simons Island and began volunteering here at Hospice of the Golden Isles. She's performed a variety of volunteer jobs over the years, but there are two for which she's famous: creating scrapbooks about HGI and knitting prayer shawls to comfort hospice patients.
Several times a week, 93-year-old Charlotte carefully checks the local newspaper and area publications for items about HGI. When she finds something, she cuts it out and places it in the appropriate scrapbook. Although she can't remember exactly how long she's been doing this, she says there are now multiple volumes of scrapbooks. According to Charlotte, "Someone even made or bought a bookcase for them."
As for her popular prayer shawls, Raymond prays small, simple prayers while she knits them. "Then they are blessed prior to the patient receiving them by Dr. Mike (the Rev. Michael Cordle, chaplain at HGI)," she said. "It's so gratifying to make these; you know they're going to someone who will enjoy them." Families often keep the prayer shawls after their loved one dies.
Raymond is extremely humble, and doesn't want any attention for her work, but she's known to many families who have passed through the doors at HGI as the "prayer shawl lady."
We're always looking for great volunteers like Charlotte. If you would like to learn more about volunteering, contact our Volunteer Coordinator.