How To Become A Hospice Nurse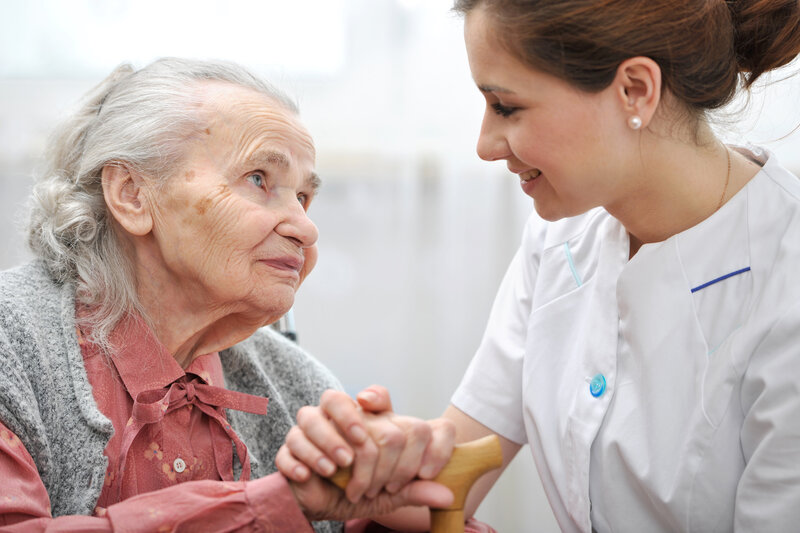 We have yet to meet a hospice nurse, physician, social worker, staff, or volunteer that doesn't feel our work is "a calling." The fragile, respectful, and complicated realms of dying, death, and grief require unique skill sets and gifts. Those who want to work in this field have a special relationship with life and death, seeing them as part of the same and connected whole.  
This is all to say that while there is a logistical and linear path to becoming a hospice nurse, odds are your journey is one of the heart and soul. 
Steps To Becoming A Hospice Nurse: The Basics
Most hospice services prefer to use registered nurses (RNs) over licensed vocational nurses (LVNs) because our RNs are the frontline of 
the hospice care team
. While physicians are the ultimate deciders and contributors to our hospice client care plans, they rely heavily on our nurses' knowledge, wisdom, and intuition.
So, as you can imagine, the path to becoming a hospice nurse begins with graduating from an accredited nursing program.
Find the right nursing program for you
Georgia has many exemplary nursing programs, most of which are part of a bachelor's degree program. Sites like nursing.org have recommendations and information about the nation's best programs, such as this list of 
Top Ten Best Nursing Schools in Georgia
.
Once you are accepted into a program, speak with the program's advisor early on regarding your interest in 
hospice or palliative care
. This may open different doors and opportunities for you within the program or allow you to spend more time training in a palliative care program or in oncology – realms where hospice care is more likely to happen. 
The nursing.org site says it best. In addition to comfort care, personal hygiene, and a patient's symptom and comfort management, the hospice nurse's duties are "…clinically rigorous. They are constantly assessing and evaluating their patients' conditions both to react to them appropriately and keep the medical team, spiritual professionals, and the family aware of any changes or transitions." 
For many hospice nurses, the greatest challenge is learning how to create firm but compassionate boundaries between work and their personal lives. Hospice care professionals must also learn to honor their need for rejuvenation and self-care (more on both below).
Pass the NCLEX
Once you've graduated from a nursing program, you'll need to pass the National Council of State Boards of Nursing's (NCSBN) notorious National Council Licensure Examination (NCLEX-RN® exam). The NCLEX is rigorous, but your fellow nursing students are your greatest allies in diligent studying and group study opportunities.
You can also invest in online NCLEX-RN exam preparation classes and materials, which help test takers feel more prepared for the journey. The current 
first-time pass rate
 for the NCLEX is 88%, and you can take it multiple times until you pass. That said, those with a B.A. and RN degree have notably higher pass rates than fellow nursing graduates from AA degree programs.
Working experience in acute care settings
The right RN graduate with little post-grad work experience 
may
 be given a job in hospice with the right story or evidence this is the right place for them. However, most hospice services prefer to hire nurses with some years of experience in acute care settings.
Try to gain two to three years of working experience in healthcare arenas like:
Intensive Care Units

 

Urgent Care

 

Trauma

 

Oncology

 

Neonatal ICU

 

Palliative care

 
In addition to gaining the clinical skills required to work with hospice patients, you'll also "learn the things that can't be taught," such as open-hearted compassion and connection with patients and families, your own threshold, tolerance, and coping strategies for stress, and whether end-of-life care is really the right space for you to be working.
Work through personal end-of-life care
choices
Working through personal end-of-life care choices and your grief isn't a prerequisite to getting a job, but it's bound to become a requirement once hired. You simply cannot give the best quality of care to patients and families if you aren't "doing your own personal, spiritual, and logistical work around death, dying, and grief.
Some of the situations you will encounter throughout your hospice nursing career are bound to trigger you. How you handle and respond to those triggers is directly related to where you are at in your personal journey or thought/feelings processes around death and grief. If this isn't something you have done in the past, we recommend visiting the following resources:
5 Wishes.org
It's more than just a document. 
Five Wishes
 is a complete and approachable way to discuss and document your care and comfort choices. It's about connecting families, communicating with healthcare providers, and 
https://fivewishes.org/shop/order
showing your community what it means to care for one another. Individual 
5 Wishes Advanced Directives
 start at just $5, and prices go up depending on the instructional or conversational guides you select.
Reimagining the end-of-life…
Janet Booth RN has spent 30+ years as a hospice nurse, advocate, and educator. Jan helps other RN and RN coaches to remain in constant communication with their emotional/spiritual processing and learning to honor their self-care needs. Her book,
 Reimagining the End-of-Life: Self-Development & Reflective Practices for Nurse Coaches
, is a must-read for anyone working in the hospice or end-of-life realms.
Practice healthy boundaries and self-care
Finally, this career draws healers and doers, personality types known for having leaky personal boundaries. If you pride yourself on your inexhaustible ability to care for those around you, there's probably some work to be done. Leaky boundaries and an inability to honor the need for restorative self-care leads to hospice nurse burnout. 
First, read the 
Mental Health America
 post on 
Setting Boundaries as a Health Care Worker
, which is a basic but thorough overview of what it means to hold healthy boundaries. If you don't have a self-care routine in place, this is the time to establish one. While massages, manis/pedis, and shopping expeditions may be part of the self-care menus, other and more essential self-care tenets include:
Healthy sleep habits

 

A nourishing diet and exercise routine

 

Connection with nature

 

Alone time

 

Seeing a therapist as needed

 

Not saying, "Yes," unless you mean it

 

Allow time to keep organized rather than living in minute-to-minute chaos

 
Becoming a certified hospice nurse
Finally, you can become a certified hospice nurse via a variety of options offered by the 
National Board for Certification of Hospice and Palliative Care Nurses (NBCHPN)
.
These include:
Certified Hospice and Palliative Care Administrator (CHPCA)

 

Certified Hospice and Palliative Nurse (CHPN)

 

Certified Hospital and Palliative Pediatric Nurse (CHPPN)

 

Advanced Certified Hospice and Palliative Nurse (ACHPN)

 
Certifications are not a pre-requisite to be hired, nor will an employer typically require them throughout your tenure. However, these certifications are a way to distinguish yourself in the field and can help you move on to other options such as hospice nurse coaching, hospice education, etc. 
Are you interested in becoming a hospice nurse or learning more about the experience? We encourage you to get in touch with local hospice care providers, such as ours –
Hospice of the Golden Isles
. You can also consider 
becoming a hospice volunteer,
 which is another way to getting a feel for hospice work, what it entails, or whether it's the right healthcare niche for you.