Grieving From Six Feet Away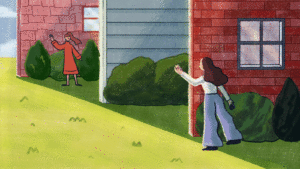 The following contribution is from Hospice of the Golden Isles' Bereavement Coordinator, Whitney Bounds, LMSW
COVID-19. Social isolation. Grocery stores full of mask-donning Americans staying 6 feet apart from one other. No social gatherings, including funerals, memorial services, and celebration of life parties. Anxiety, mixed feelings and emotions. Panic.
This is all part of our new reality. As life continues to move forward, nature takes its course, pandemic or not, and the cycle of life continues. We are grieving loved ones that have passed, the lost normalcy that was our daily lives, and a lack of social interaction. What does this mean for those who are grieving?
This perfect storm could lead to increased mental health concerns, including depression and anxiety during the grief journey. Social isolation in particular can lead to lack of a support system, leaving these individuals especially vulnerable to depression.
The University of California Department of Psychiatry has put together a resource page addressing emotional well-being during this unprecedented time: "Emotional Well-Being and Coping During COVID-19." It is full of helpful information to get us all through this pandemic. In addition, New York State Office of Mental Health has tips for helping others grieve. Stay well, follow the CDC guidelines, and take care of yourself and your family.
Click here for more information about coping during Coronavirus