Therapy Pet "Paw"ty is Howling Success!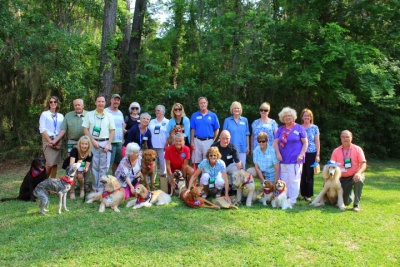 18 Therapy Dogs from Therapy Dog International (TDI) were "treat"ed to a real dog party at HGI. The party was in appreciation for all that they (and their humans) do to help others in the community and here at hospice. Special thanks to Pet Supplies Plus, Certified Burger, and the Darien Animal Hospital.
Read Florida Times-Union media coverage
Read the Brunswick News media coverage
Back row left to right: Elizabeth Williams, Buddy McGhin and Buster, Bob Joiner and Raleigh, Karl Merriman, Susan Gibbs, Ann Granger and Duffy, Beverly Spaeth, Patty Crosby and Dexter, Jack Brodhag, Gwen Scott, Janet Douglas, Lynn Tyrer and Hallie Louya, Ruth Barker.
Front row left to right: Carole Pattie and Lily, Linder Waller and Zack, Diane Sheehan and Luke, Dottie Brodhag and Dixie, Tom Scott and Skeets, Arlene Ingram and Darby Rose, Robert Lamoureaux and Pierre.